Mark almost anything with bright, lasting color! The Sharpie Fine Point Marker has a tough, resilient 0.5 mm tip. Permanent ink is fast drying, quick flowing, and resists water.
Set of 4 Colors — Set includes the colors Red, Green, Blue, and Black, in a plastic pouch.
Set of 8 Colors — Set includes one of each color in the set of 4 colors, plus the colors Yellow, Purple, Orange, and Brown, in a plastic pouch.
Set of 12 Colors — Contains one each of Black, Yellow, Purple, Red, Green, Brown, Orange, Blue, Aqua, Berry, Lime, and Turquoise, in a plastic pouch.
Note — Use this color chart as an approximation of the real color. If exact color matching is necessary, use actual samples of the materials.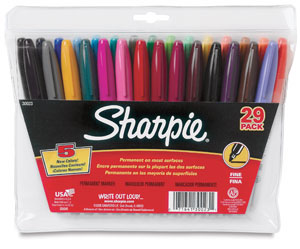 Sharpies are amazing.
They are the coolest thing since God created rainbows.

If you guys didn't know, I love to color. I get stained glass coloring books and spend hours and hours filling it in with my sharpies, and they don't turn out to bad. I'll post a picture some time.

Sharpies are addictive, fun, and they never run out of ink. If you like to draw, or even if you don't like to draw, buy some sharpies. Today. Google the word 'Sharpie' and find the cheapest place and get some...they have every color under the sun.